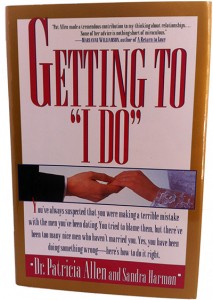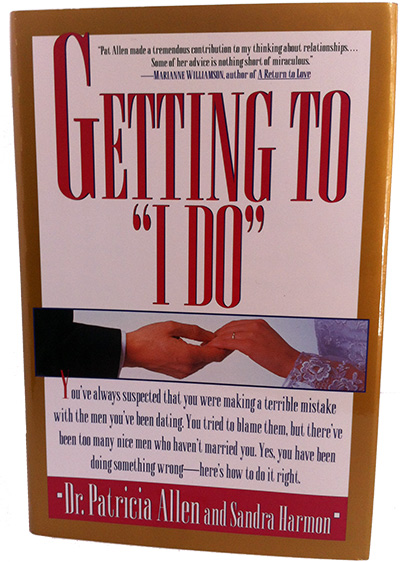 Getting To "I DO"  The Secret to Doing Relationships RIGHT!
"The Woman's movement brought us independence, but it did not bring us love"
How to Attract the Right Man
When  you Should Make the First Move..and When you Should Not
Why equality in a relationship may not be what you're looking for
Why Sex Before Commitment is a Bad Deal
How to have Sensational Sex
What Makes a Man Run Away from a Relationship
How to Know When You're Giving Too Much
What Makes a Man Want to Commit
How to Get What you Want Without Asking
How to BE ENGAGED TO THE RIGHT MAN WITHIN A YEAR1
Available in Hardcover  (we do not ship internationally)
(tax included)
CLICK HERE to purchase "Getting to I DO" in Softcover on Amazon! 
AVAILABLE LIMITED QUANTITY IN HARDCOVER! Dr. Pat Allen's  jam-packed seminars in Los Angeles  have resulted in thousands of marriages. Now you too can take advantage of this proven step-by-step program to put your love-life on the right track.
"Just what cupid ordered!" —Beverly Hills Today

"Move over, Dr. Ruth!" —Los Angeles Magazine
Note: We are  offering Limited quantity of  the original hardcover edition of this book by Dr. Pat Allen which is now out of print. The best-seller paperback edition is still available everywhere.