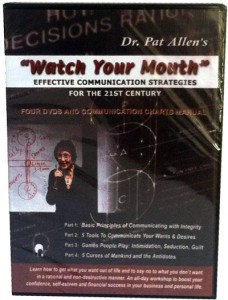 Effective Communication Strategies
For the 21 Century
5 Hour Workshop
Four DVD disc's or One Mp4 disc for downloading onto computer, Communication Chart Manual included   "CURRENTLY OUT OF STOCK"
Part 1:   Basic Principles of Communicating with Integrity
Part 2:   5 Tools to Communicate Your Wants & Desires
Part 3:   Games People Play: Intimidation, Seduction, Guilt
Part 4:   5 Curses of Mankind and the Antidotes 
DVD format (Pack of 4 DVDs):
MP4 (video/audio) and MP3 (audio) format (in disc):
Take charge of your life by taking charge of the Words you use in your  Thoughts, your Speech, and in expressing your Needs to those you work with, sell to, and have relationships with in your professional and personal life.  This course will teach you the secrets to creating healthy relationships of respect and cherishing for both parties in any transaction
—business, personal or sexual—and to freely and honestly express your deepest needs, your wants and not-wants, without resorting to self-devaluation gimmicks and destructive ploys of intimidation, seduction or guilt.  It's scientifically grounded in Cognitive Behavior Therapies and principles of Transactional Analysis, and uses techniques of Androgenous Semantic Realignment that Dr. Allen has developed during 40 years of counseling thousands of individuals, couples and families to achieve mutual harmony, spiritual growth, economic success and greater intimacy.
* ANDROGENOUS.  You have aspects of both the masculine and the feminine within you.  Discover which to  emphasize in every individual communication situation.
*SEMANTIC.  Your actions are preceded by thoughts, and thoughts come as words.  Learn to adjust your choice of words to suit any occasion, and think reationally about your feelings before you act.  End the pain that comes from feeling, reacting–and then lamenting "Why did I do that?"
REALIGNMENT.  Energies in relationships must constantly adjust to meet situations that arise.  Like the tires on your car, when your energies are not aligned you wear down and blow out.  Get on track, rewrite you lifescript….and triumph in Act Three.