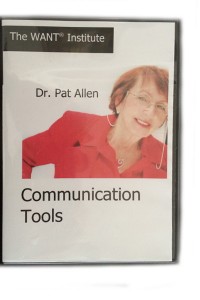 Includes Communication chart manual
Topics:
Insight into the 5 "Curses" of life, and their antidotes.
Brain Differences.
The Power of Dr. Pat Allen's coveted negotiation tools.
How To Make Decisions Rationally.
Three Tools-
Stroke and Stand , Validation, 5 Step Clean up.
Amigo Talk. (This DVD is included with Relationships over 50 aswell as Chemistry, Compatibility & Communication in relationships)
 
The "Secret" of life is really learning how to communicate effectively and with integrity.  Dr. Pat Allen can help you prepare yourself for better love and a better life!  (we do not ship internationally)
NOT AVAILABLE until AFTER November 1st, due to back orders and high demands. 
Sample of the Video