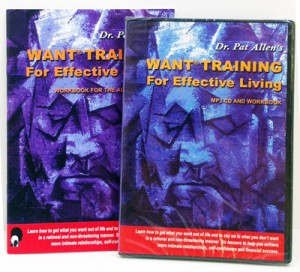 CD Or MP3 audio with workbook set.  6 Sessions, available on 6 individual Audio CD's  — or choose our  MP3 version with all 6 sessions on a single disk, perfect for your iPod or Smart Phone. With either version you get nearly 5 1/2 hours of in-depth instruction in Dr. Pat Allen's Trademarked technique of Want Training that goes to the core of human communication…….The Words That You Speak!
Dr. Allen teaches you how to add powerful and lasting direction to your life and relationships by simply learning how to ask for what  you want and saying "no" to what you don't want, using her rational non-threatening system to communicate with integrity.  Her system for personal growth uses Androgynous Semantic Realignment (a cognitive behavioral modification technique) to repair negative language habits.  Because we think in words, changing those words changes how we think, and directly affects how we live.  With six clear, concise lessons Dr. Allen will train you how to use words as tools to get what you want out of life, to communicate lovingly, to confront both men and women in a respectful and cherishing manner, and to achieve fundamental self-esteem and restore physical and mental health:
How to Make A Decision Rationally, Not Emotionally
How To Speak Rationally and Assertively
Handling Emotional Confrontations Rationally
Re-Direct & Restructure Negative Habit Patterns Positively
Career Planning-How to Double Your Financial Success
Psychological Potency-Getting It and Using It  
Audio CD(s) by Mail:  (we do not ship internationally)
---
Digital Download (MP3 Format)
Please note: To use digital downloads on Apple® devices such as iPhone® you must download to a computer first then sync the files to your device, you will not be able to directly download this file to a iPhone® or iPad® at this time.  This Item is not compatible to download onto Mac. Computers.
(tax included)