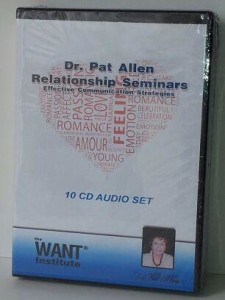 WINTER SALE! Over 10 Hours of Dr. Pat Allen's audience interaction recordings of her famous Los Angeles open Forum Relationship Seminars. Dr. Allen most often called THE LOVE DOCTOR explains her unique theories on how Male and Female energies interact in a relationship. Dr. Allen's information is politically incorrect-but scientifically accurate.
Topics Include: Questions and Answers from the Audience:  "The Love Addict"- "Space Walk Talk"- "The Sperm Chases the Egg" – "Do you Want to get Paid or Laid"-"Choosing to Be Respected or Cherished"-"Flirt to Attract"-"No Sex Without Commitment"-"Is Giving Masculine or Feminine?"- "Having Sex is Not Making Love"-"How To Handle Conflict"- " Women Raised to be Boys"- "You want Control, He wants Gratification"- "Fall in Love with the Missing Part of You"- "Gentlemen Require Flirting"-"No One is Worth Marrying"- "Duty-Dating to Courtship, to Dating and to Mating"- "Longevity, Continuity, Exclusivity"- "You are in Love with Him-He is Not in Love with You"- "You Have Dated Wusses, Now You Have a Man"–
Special Price: $9.95 (Expires January 31, 2019)
 $19.95  –   $9.95  Instant Access Today!

Digital Audio Download (MP3 Format)
Please note: To use digital downloads on Apple® devices such as iPhone® you must download to a computer first then sync the files to your device, you will not be able to directly download this file to a iPhone® or iPad® . If problems with accessing download contact [email protected] .
---